Loudon County Sheriff Jimmy Davis is excited to announce his choices for his senior command staff following his official swearing-in ceremony last week.

Davis selected and appointed Chief Deputy Zac Frye to be the agency's second in command. Prior to his appointment to Chief Deputy, Frye served as a Patrol Supervisor and oversaw the daily operations of the departments nightshift squad. Frye also serves as a Captain in the Tennessee Army National Guard and is an adjunct instructor for the Regional Law Enforcement Academy at Walters State Community College. He began his career with LCSO in 2015 serving as a Correction's Deputy before promoting to the Patrol Division. Chief Frye is a graduate of Tennessee Tech University and is a Lenoir City Native. He's married to his wife Nicky and they have three children.

Deputy Chief Chris Hutchens was tapped to be one of two chiefs who would assist in the operational and administrative command of the agency. Hutchens, who previously served as a patrol supervisor overseeing the agency's evening shift squad, will oversee the operational functions of the agency including patrol, K9's, special teams as well as other areas beyond that. Chief Hutchens began his law enforcement career in 2011 and served in a variety of roles including supervisor and K9 handler. Hutchens is a veteran of the United States Army, serving from 2004-2011 as a non-commissioned officer as well as deploying to Iraq during Operation Iraqi Freedom. Hutchens, a Loudon native, is married to his wife Alondra and together they have two children.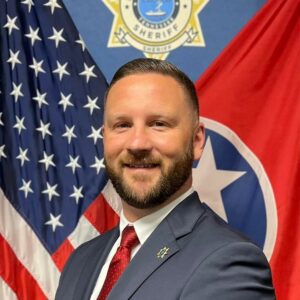 Deputy Chief Rick Baker was selected to fill the position responsible for oversight of LCSO's administrative functions as well as the Criminal Investigations Division and the Narcotic's Unit. Baker began his law enforcement career in 1996 and has served in almost every capacity imaginable within law enforcement. Baker's background includes supervision, SWAT commander, training academy director and instructor to name a few. Chief Baker is currently the President of the Tennessee Training Officer's Association and holds his bachelors from Lee University and his Master's from Columbus University. In addition to his law enforcement background, Chief Baker travels across the country as the National Training Director for the Legal Liability Risk Management Institute (LLRMI). Baker and his wife Debbie, who live in Loudon County, have three children.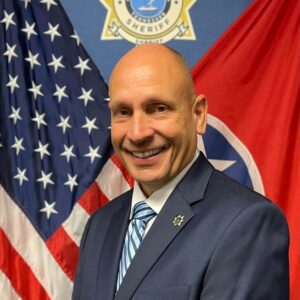 "Together, this command staff holds over 70 years of quality experience that is extremely diverse and innovative.", said Sheriff Davis. "I wanted to assemble a team of leaders who possessed a strong work ethic, displayed professionalism at every angle, and brought modern and innovative ideas to the table. It is my belief that this is a well balanced team that are each committed to making LCSO one of the most modern and efficient agency's in the state."
Congratulations and welcome to your new roles, gentlemen. We are all excited to see the progress and differences you each will make as chiefs!