Sheriff Jimmy Davis is excited to introduce his team of leaders selected to head the agency's Investigative, training, narcotics and detention facility units.

Lieutenant Charlie Cosner is tasked with overseeing the day to day operations of LCSO's Criminal Investigations Division (CID). Lieutenent Cosner began his career with LCSO in 2007, immediately bringing valued experience to the CID Unit. Cosner, who just logged 22 years in law enforcement, has spent the last 15 years in the investigative unit bringing dozens of advanced and specialized training certifications including the world-renowned National Forensic Academy. He currently boasts over 2000 hours of training in forensics and crime scene investigation. In addition to his investigative specializations, he is also a FBI trained Hostage Negotiator and a Homeland Security trained SWAT Sniper. In 2020, Cosner was promoted to Lieutenant of the CID. Lieutenant Cosner, who is a Loudon native, is a veteran of both the US Navy, having served on the USS New Orleans, and the US Army, 278th Infantry. Cosner holds a Master's Degree in Criminal Justice and is currently a Ph.D. Candidate in Psychology. He is the proud father of three children and three grandchildren.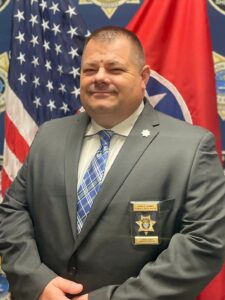 Lieutenant Shane Ezell will continue to oversee and manage the operations and investigations of the agency's Narcotics Unit. Lieutenant Ezell, who began his law enforcement career in 2006, has been assigned to the Narcotics Unit since 2009. In 2017, he was promoted to the rank of lieutenant and tasked with the responsibilities of tackling the narcotics crimes within the community. In addition to his duties as the Narcotics Supervisor, Ezell is one of the agency's Tactical Leaders who routinely assists in the oversight of all high-risk operations. He holds numerous certifications from the FBI, DEA, TBI, ATF, the Joint Terrorism Task Force, the National Tactical Officers Association, the Tennessee Narcotics Officers Association and the Regional Counter Drug Training Academy. Ezell also serves as one LCSO's Firearm's Instructors. Lieutenant Ezell has been married to his wife for 29 years and together they have three children.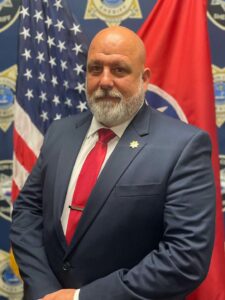 Lieutenant Jerramie Bowen has been tapped to lead the agency's Training Division. Lieutenant Bowen started his career with LCSO in 1999 as a Reserve Deputy before going full time as a Corrections Deputy in 2003. In 2005 he was promoted to the Patrol Division. In 2010, Bowen was promoted to Sergeant over Patrol and as the agency's Assistant Training Officer. And prior to his most recent promotion, Lieutenant Bowen was a Sergeant Detective with the agency CID Unit. In addition to his general assignments, Bowen has served as a member of the LCSO Honor Guard. Bowen holds numerous certifications including Firearms Instructor, EVOC Instructor, Tactical Threat Instructor and is a RCTA Certified Narcotics Investigator. Lieutenant Bowen has also served as an Adjunct Instructor for both the Tennessee Law Enforcement Training Academy (TLETA) and Cleveland State Community College Law Enforcement Academy. Bowen is also a part of Team East Tennessee – a group of law enforcement officers who ride in the National Police Unity Tour in honor of fallen law enforcement officers. Lieutenant Bowen and his wife Julie, who reside in Lenoir City, have been married for 26 years and together have two children.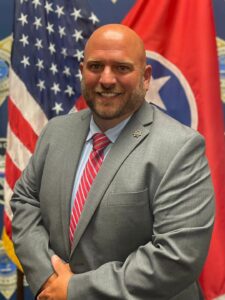 Captain Dusty Langley has been selected to serve as the agency's Jail Administrator. His responsibilities include management and oversight of the day to day operations of the Detention Facility. Captain Langley started his career with the Loudon County Sheriff's Office in 2008 as a corrections officer. In 2010, Langley was assigned to the Litter Grant pick up crew, sponsored by the Tennessee Department of Transportation. In 2011, he was transferred to the Courtroom Security Unit and in 2021 became the Courtroom Security Coordinator. Dusty is married to his wife Amy and together they have seven children and one grand-daughter.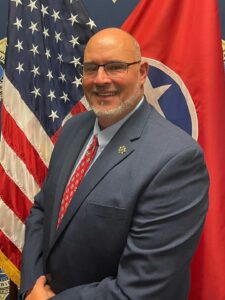 "These men have been selected to carry the huge responsibility of managing the operations of their units, as well as promote efficiency, effectiveness and a high quality team centered around morale and training.", said Sheriff Davis. "Our ability to be great at our jobs, to serve the community well, begins with leaders who inspire their workforce and lead with professionalism and innovation. I am excited to see these men do great things in their roles."